Our Hamilton dental office Team
When you call or come in for your appointment, you can count on professional service with a personal touch.

Dr. Maher Naji
Dentist
---
Dr. Naji has more than twenty five years of experience in dental surgery; graduating from Dalhousie University. He successfully completed the American and Canadian board certification. Between the U.S.A. and Canada, Dr. Naji completed 2 years of courses and trainings in the field of Implant Dentistry, and comprehensive training program in oral rehabilitation and received his training and certification in intravenous sedation and advanced cardiac life support.
Dr. Naji is a member of the Academy of General Dentistry (AGD) and a member of the American Academy of Implant Dentistry (AAID) and has completed different courses in the surgical extraction of wisdom teeth, endodontic therapy for root canals, periodontal surgery, cosmetic dentistry, laser dentistry, and Invisalign aligners.
Dr. Naji works as an associate in Welland, Niagara Falls, and Fenworth Hamilton. He focuses his practice on treating the entire family, providing the highest standards of care.
Dr. Naji speaks English, Romanian, and Arabic and he enjoys swimming and soccer. Dr. Naji and his wife have four kids. He looks forward to treating your dental needs, and providing you a smile with lasting impressions.
Dr. Tharwat Al-Izzi
Dentist
---
Dr. Izzi started to practice General Dentistry for more than 20 years, since his graduation in 1994, where he received his bachelor of Dental Surgery Degree in Dentistry from Baghdad University. In 2001, he acquired his Master Degree in Prosthodontics. In addition, Dr. Izzi was enrolled as a faculty staff member for a period lasting of five years at Prosthodontic Department of Baghdad University.
From 2006 to 2016, Dr. Izzi practiced Dentistry in Abu Dhabi, United Arab Emirates, including complicated surgical extractions/ impacted wisdom teeth removal, molar root canal treatments, fixed crown and bridge work, and aesthetic veneers treatment (Lumineer Certified Dentist). Due to his dedication devoted towards aesthetic dentistry, he was awarded as a laser safety officer from Bonn University, Germany.
Dr. Izzi is a certified Canadian Dental Board. He is a registered member of Royal College of Dental Surgeons of Ontario (RCDSO) and a member with the Ontario Dental Association (ODA). Moreover, he is a registered member of the Newfoundland-Labrador Dental Board and a member of the Newfoundland-Labrador Dental Association (NLDA).

Umesh Prabhu
Denturist
---
Umesh Prabhu earned his bachelor of dental surgery degree in India before completing his diploma at the George Brown College in Toronto in denturism. He has more than fifteen years of experience in the dental field. He is a member of the Dental Association of Ontario and the South Asian Dental Association. Outside the office, Umesh enjoys spending time with his wife, Kavita and son, Udit. He can often be found playing cricket, basketball and computer games with his son.
Dr. Audrius Gureckas
Dentist
---
Dr. Audrius Gureckas, known by staff and patients as Dr. G, graduated from the University of Western Ontario in 1978 with a Doctor of Dentistry degree. He continued further orthodontic training at the University of Detroit in the continuing education department for several years as well as courses at University of Toronto and other independent courses.
Dr. Audrius Gureckas is a general practitioner providing full orthodontic services for patients at a general practitioners fee schedule.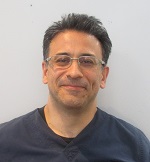 Dr. Farshad Firoozabadi
Dentist

Yicel
Dental Assistant

Shannon
Dental Assistant

Tabitha
Office Manager

Cathie
Office Admin

Barbara
Hygiene Co-ordinator

Miriam
Hygienist

Rita
Hygienist
Crystal
Dental Assistant
Babi
Dental Assistant