SnoreNoMore
Do others complain of your loud snoring at night?
Are you fed up with feeling exhausted?
Are you worried about the long-term health risks?
If so, you might suffer from Sleep Apnea. We find that many of our patients are dissatisfied with traditional remedies like the cumbersome CPAP machine, and so Fenworth Dental is proud to offer an alternative - the Dorsal. Contact a us for a free SnoreNoMore consultation.
SnoreNoMore offers patients an innovative oral breathing device, the Dorsal, to relieve unbearable snoring. Patients agree that it provides a better alternative to CPAP machines which can be cumbersome, impractical to use every night and challenging for patients who travel a lot.
Benefits of the Dorsal device?
Safety
Easily adjustable
Clinically validated
Allows for speech and drinking
Complete warranty against breakage
Permits normal mouth opening at night
Custom fitted and can be designed to suit your liking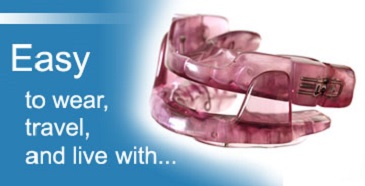 The Dorsal is custom-made with an upper and lower plate that features a unique patented coupling fin. The discreet design allows for normal movement to open and close your mouth fully when wearing it.
Dental impressions are taken to fabricate the Dorsal, and your Teeth First Dentist will fit it for you and show you how to use it.


Your Dorsal can be ready to wear in one week.